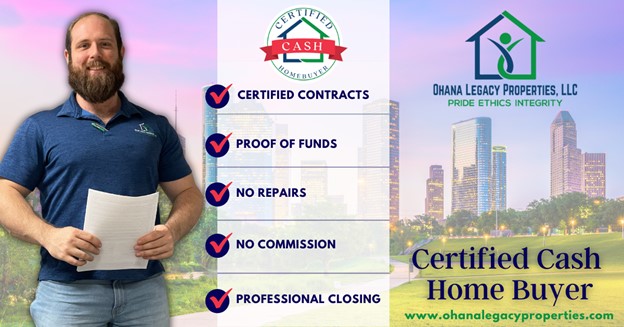 Among the many individuals and companies currently advertising as "Cash Home Buyers," Ohana Legacy Properties takes it to the next level, as a Certified Cash Home Buyer. By Oxford definition, to be certified is to be "officially recognized as possessing certain qualifications or meeting certain standards." Here at Ohana, our reputation is built on exceeding those standards.
As a Certified Cash Home Buyer, we promise our clients:
Certified Contracts
Proof of Funds
No Repairs
No Commission
Professional Closing
Certified Contracts
We want our clients to feel secure and confident in the process of a certified cash home purchase. Our standard of service ensures that an attorney will provide all of our contracts, with all legal rights and obligations of both parties fully included and explained. And, we will spend whatever time necessary to make sure our clients fully understand the details and terms of the contract before ever being asked to sign.
Proof of Funds
Our offer of a cash purchase for your home is exactly that: an offer to pay CASH for your home., and to do so quickly. We will provide to our clients certified proof that we have the funds readily available in our accounts and, immediately accessible to complete the purchase of your home. We never want our clients to feel that we have wasted their valuable time, so we provide financial proof to them to show them that we are serious too.
No Repairs
When we make an offer on your home, that offer is for the home in its as-is condition. By this point in the process, we will have already done an inspection of the property, and will be aware of any necessary repairs or renovations. So, our fair cash offer is our offer for your home exactly as it is. You will not be asked nor required, to make any repairs. Once you decide to accept our fair cash offer, that is the amount you can count on receiving without any additional work done by you on the home. Any, and all, necessary maintenance and repairs will become the responsibility of Ohana Legacy Properties.
No Commission
Our Certified Cash Home Buyer Program also promises that no commission and no hidden fees will ever be deducted from the price agreed upon for the purchase of your home. The amount of our fair cash offer is the actual amount that you will walk away with — every penny of the agreed-upon price will be yours.
Professional Closing
We have built a vast network of proven and well-respected professionals. This network allows us access to top attorneys and title companies that we know are proven and professional. We partner with them because we know they can be trusted to show you the quality of service that we demand to be shown to our clients.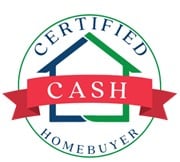 In Review
So, what is the Certified Cash Home Buyer Program at Ohana Legacy Properties? It is our word, our promise that the process of selling your home to us for cash will be done with professionalism, integrity, respect. That we will communicate clearly and openly about all details of the process.
Ohana's Certified Cash Home Buyer Program is:
A guarantee that all contracts will be drawn up by an experienced attorney and all details made clear. If upon inspection of the contract, you have any remaining questions or concerns we will take whatever time necessary to make sure you fully understand all aspects of the contract.
Reassurance that you will not be asked to make any repairs to the home before selling it to us for cash. Once we make our fair cash offer and you accept the offer, all repairs and renovations become our responsibility, not yours.
A promise that no commission fees nor other hidden fees will be deducted from the agreed-upon purchase price. The amount we offer will be a fair offer to purchase your home quickly for cash will be handled quickly and professionally. The amount you receive at closing will be the full amount that was agreed upon.
Satisfaction with the speed and professionalism with which the closing was scheduled and completed. We partner with title companies and attorneys who have a proven record of integrity and professionalism.